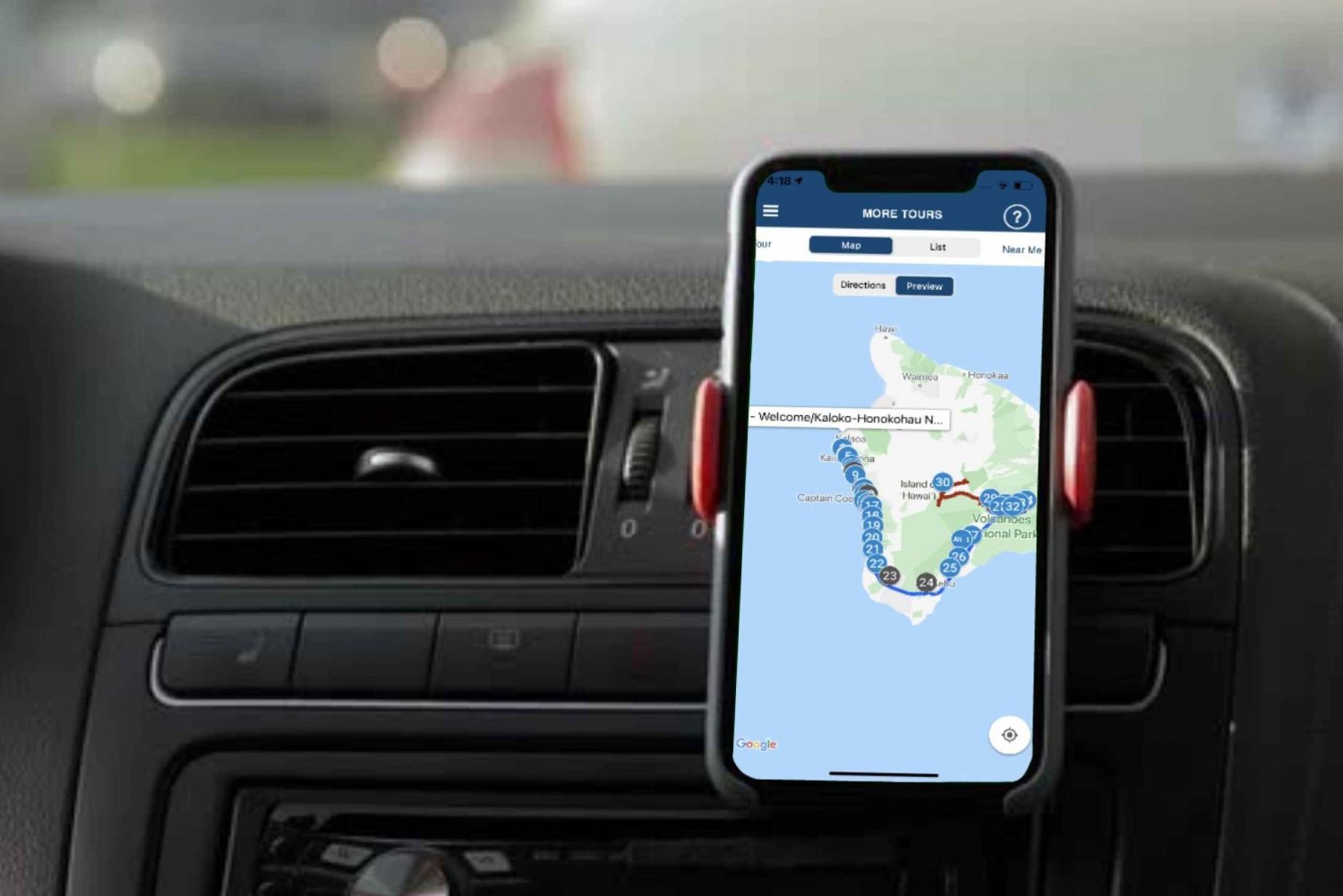 Event Details
Highlights
See lush greenery and exotic flora at the Hawaii Tropical Bioreserve & Garden
Make a breathtaking journey up a volcano used by NASA to practice missions
Dive into the fascinating culture and mythology of the ancient Hawaiians
Explore geologic wonders left by Hawaii's dramatic volcanic past
Experience the Big Island's south side at your own time and pace
Description
Experience Hawaii's Big Island at your own pace with a self-guided driving tour. Stops include Hulihe's Palace, Magic Beach, and the Lekeleke Burial Grounds. Your tour of the Big Island begins outside the quaint town of Kailua-Kona. Start by downloading the Action Tour Guide app that will function as your personal guide, audio tour, and map all in one. As you drive, you'll see the historic Hulihe'e Palace, once the vacation home of the island's royalty. Continue south to Magic Beach, where the sand sometimes simply disappears. After that is Kahalu'u Beach, a perfect place for snorkelers, followed by the sacred Lekeleke Burial Grounds. Next, pass the remnants of Hikiau Heiau, an important religious site in ancient Hawaii. Past that is the Pu'uhonua O Honaunau National Historical Park for those looking to learn more about the island's history. See the Honaunau Rodeo Arena and learn all about Hawaii's cowboys. Next up is Pebble Beach, where you'll get to know the Hawaiian volcano goddess Pele. You'll also have the option to check out the Kula Kai Caverns, left by ancient volcanic activity. Continuing on, reach the startling Punalu'u Beach, which features totally black sand. The route then passes an old sugar plantation, followed by the huge volcanoes Kilauea and Mauna Loa. Pass by Hawaii Volcanoes National Park, where you can explore the island's volcanoes up close. After that, drive through the picturesque town of Hilo. Then, cruise through the almost impossibly scenic Liliuokalani Park and Gardens. Find surfers catching waves next at Honoli'i Beach. After that is Onomea Bay, featuring a spectacular hiking trail with views that can't be beaten. Then, admire the astonishing flora at the Hawaii Tropical Bioreserve & Garden. Continuing on, you'll arrive at the surprising sight of the Honohina Hongwanji Mission, a historic Buddhist temple. Next pass the Laupahoehoe Train Museum before reaching Laupahoehoe Point, a spectacular ocean vista. Don't forget to snap some photos. Anyone hankering for a snack will definitely want to stop at the Hamakua Harvest Farmers Market before continuing on to the cowboy town of Waimea. Up next are a pair of great beaches: Hapuna Beach is the largest white sand beach on the island and Beach 69 is beloved by locals, so take your pick. Then you'll arrive at the Kings Highway Foot Trail, where you'll have the chance to see the ancient Waikoloa Petroglyphs. After that are another few scenic overlooks, followed by the beautiful Kekaha Kai State Park. Your tour concludes here, just north of where it began.
Includes
A link to download the Action Tour Guide app and a unique password for your tour(s). An audio guide, location-aware map, and storyteller — all in one mobile app tour. Our mission: To explore the world and its many stories. Join us! Excellent value: Buy only one tour per car. Don't hassle with "per person" bus tickets. Ease of use: Stories auto-play based on your location so you don't have to do anything once you've started. Offline map: Works without a cell signal or wifi once downloaded. Hidden gems: Visit often-missed spots and enrich your experience with little-known history. Flexibility: Explore at your own pace with no fixed schedule. Take a break, a hike, whatever, and pick up where you left off! No expiration date: Your tour is valid for life. Listen whenever, wherever, and however often you want. All-day support line: Call, chat, or email for help.
Important Information
This tour is a self-guided mobile app tour with a map, audio stories, and images
Access the tour on the Action Tour Guide app (separate from the Get Your Guide app)
Use the unique password received after booking to download & preview your specific tours before you arrive
Start at the Starting Point. Follow the tour route. All audio stories play automatically based on your location
Flexible schedule: use it on any day and at any time, or over multiple days. No need to rebook if your travel plans change
Lifetime access: use it on your next trip here! This tour never expire
Driving tours: use one tour per car and connect to the car speakers.
Get support by calling, chatting, or emailing - all day long
Easy cancellation
Cancel up to 24 hours in advance for a full refund
Save up to 20%

Reserve Your Experience

From $14.99

$11.99

Buy Tickets!
---
Other Events from Hawaii: Big Island Self-Guided Driving Tour