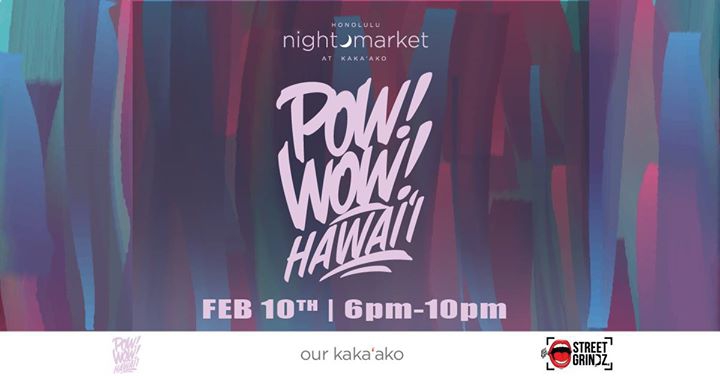 Event Details
It's back…our annual collaboration event with Pow! Wow! Hawaii!

We're kicking off the week-long festival with our block party featuring a night full of music, art, fashion and food in the heart of Kaka'ako. Honolulu Night Market is back on the Cooke Street block on Saturday, February 10th.

FASHION SHOW BY: Rance China

Retail
Stardust and Succulents
Once Again Hawaii
Once Again Hawaii
Red Label
Katrina Cordova Designs
Topia Clothing
Little Rumi
Shop Yireh
HNV Apparel
Ki-ele
Bsky
HiDose
Eleven04
Oceans End Co
Notted Nest
Coco Moon Hawaii
Avant Pop
Lauren Roth
Love Me Knots
Harbors Vintage
Shop Vixin
Etched
Umi Toys Hawai'i

Food
Hughley's
Nosh
Gyozilla
Hawaiian Delights
Kobob To Go
Franky Fresh - dropped out
Da Ultimate Grindz
Ulu's Lemonade
Aloha Plate
BunBuns Bakery
Sabaii Kailua
Hawaiian Fresh Farms
No Ka Oi Cookie
Taste Tea
Flavors of the World
Hawaiian Pie Co
Hawaiian Waffle Dogs
Mega Load
Beyond Burgers
Ice HNL
Istanbul Hawaii
Infernos Pizza

PARKING INFORMATION
Parking to Honolulu Night Market can be conveniently located at the following locations:

OUR KAKA'AKO DISTRICT – STANDARD VALIDATED PARKING RATES:
First Hour (0-59 minutes) – Free
Second Hour (60-119 minutes) – $1
Third Hour (120-179 minutes) – $2
Fourth Hour+ – $3 per ½ hour thereafter

OUR KAKA'AKO DISTRICT – PARKING LOCATIONS:
Keauhou Garage – Level(s) 1,2,3
(Entrance on Pohukaina Street or South Street)
The Garage at The Flats & Puunui – Levels 1,2
(Entrance on Pohukaina Street)
Salt Parking Garage (Level 2 and up) – Levels 2 and up
(Entrance on Keawe Street)

Our Kaka'ako guests may receive district-wide parking validations from any SALT tenants or Keawe Street tenants with purchase. Restrictions apply.