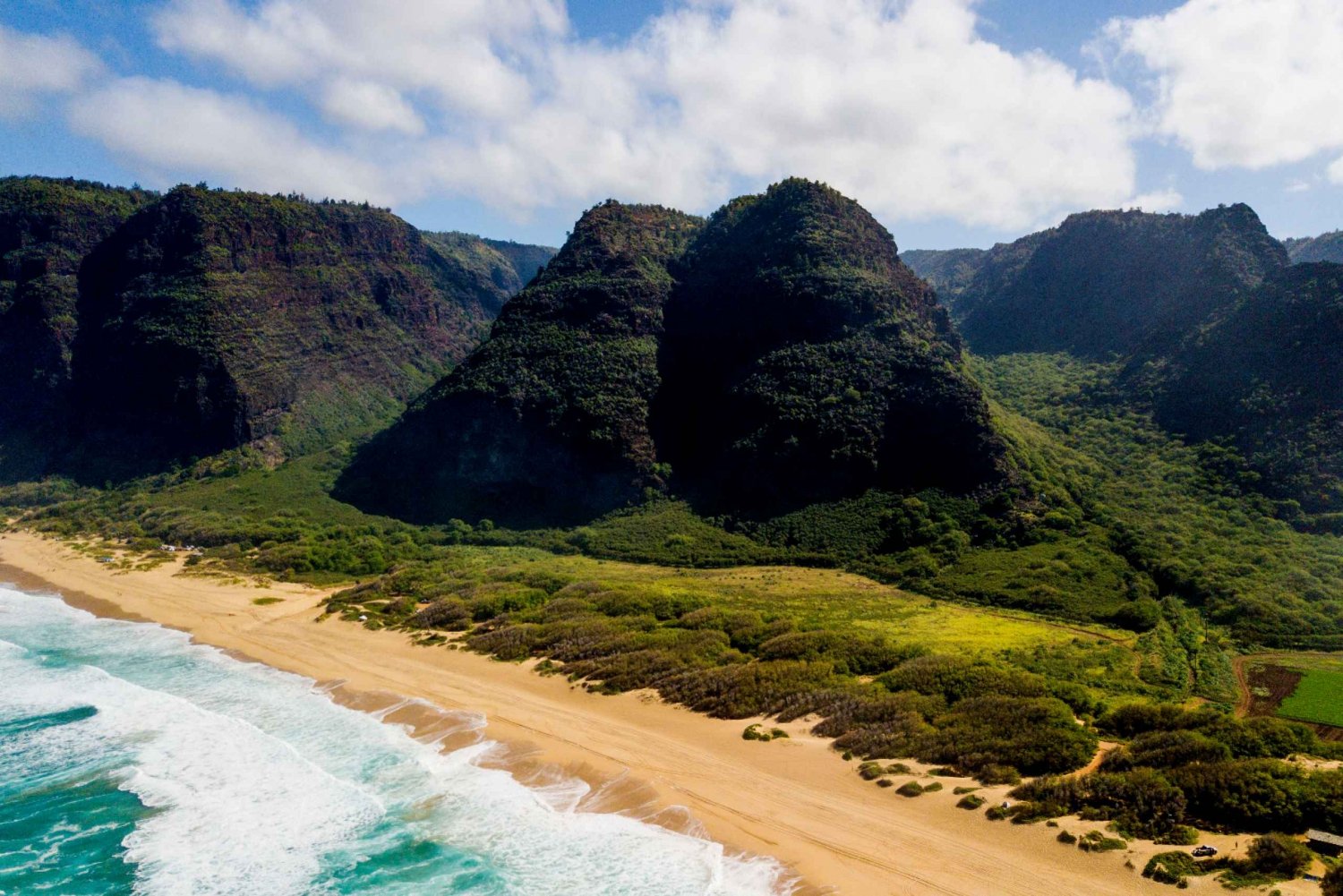 Event Details
Highlights
Explore Kauai's most vibrant sights, from the verdant Tree Tunnel to the forbidden island of Niihau and beyond.
Learn the history of the island, from the Polynesians' arrival on canoes to the cultural upheaval brought about by the American sugar industry.
Hear ancient Hawaiian legends, like the one about the boy who journeyed to the land of the dead to rescue his lover
Learn about Kauai on a self-guided audio driving tour
Description
Explore Kauai on a self-guided audio tour that you can do from the comfort of your own vehicle. Drive along the most famous stretch of Kauai's historic highway and see the island's must-see sights. Visit Grove Farm, see what remains of the once-booming sugar plantation industry, and learn how the ultra-rich sugar barons lived. Also, learn about the industry's connections to the American Civil War. Then, head to the beautiful Poipu Beach and see the surfers hitting the waves. You might also spot Rocky, the Hawaiian monk seal who's something of a celebrity on Kauai. Catch a thrill as you pass by the Hanapepe swinging bridge. This precarious bridge spans a vast valley for amazing views and an exciting adrenaline rush. Then visit the 3,000-foot Waimea Canyon and take spectacular photos of the lush green landscapes. The last stop on this audio tour is the Na Pali Coast State Wilderness Park, a secluded slice of paradise complete with jungles, cliffs, and crashing ocean waves. As you drive along, you'll also learn about the island's best hiking spots and the fascinating, complex history of Kauai and Hawaii. Hear about the first people who cross the ocean in tiny canoes to get there, and discover their culture and traditions. You'll also learn about the arrival of American businesses, and how it changed the islands forever.
Includes
A link to download the Action Tour Guide app and a unique password for your tour(s). An audio guide, location-aware map, and storyteller — all in one mobile app tour. Our mission: To explore the world and its many stories. Join us! Excellent value: Buy only one tour per car. Don't hassle with "per person" bus tickets. Ease of use: Stories auto-play based on your location so you don't have to do anything once you've started. Offline map: Works without a cell signal or wifi once downloaded. Hidden gems: Visit often-missed spots and enrich your experience with little-known history. Flexibility: Explore at your own pace with no fixed schedule. Take a break, a hike, whatever, and pick up where you left off! No expiration date: Your tour is valid for life. Listen whenever, wherever, and however often you want. All-day support line: Call, chat, or email for help.
Important Information
This tour is a self-guided mobile app tour with a map, audio stories, and images.
Access the tour on the Action Tour Guide app (separate from the Get Your Guide app).
Use the unique password received after booking to download & preview your specific tours before you arrive.
Start at the Starting Point. Follow the tour route. All audio stories play automatically based on your location.
Flexible schedule: Use it on any day and at any time, or over multiple days. No need to rebook if your travel plans change.
Lifetime access: Use it on your next trip here! This tour never expires.
Driving tours: Use one tour per car and connect to the car speakers.
Get support by calling, chatting, or emailing - all day long.
Easy cancellation
Cancel up to 24 hours in advance for a full refund