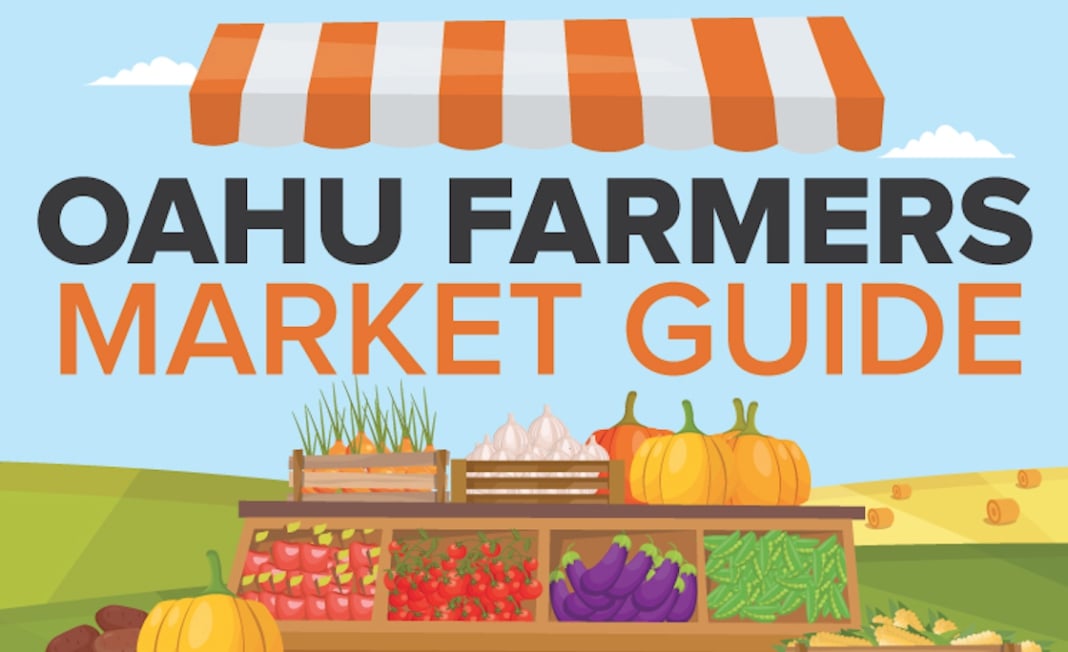 Complete Listing Of Oahu Farmers' Markets 2017
Hawaii
We created this listing of all the Oahu Farmers' Markets for you to use as a reference and guide. This complete listing has a quick snapshot of each Farmers' Market with Times, Dates, Days of the Week, and other little tidbits of information. Too see all of them in one helpful inforgraphic?
Here it is..
Do you have an inside scoop on Oahu Farmers' Markets? review or comment? Feel free to share it in the comments section or visit our
FB page
and comment there.
Now, on to the list..
Kailua Town Farmers' Market
Day of the Week - Sunday
Hours - 8:30am-Noon
Location -
315 Kuulei Rd, Kailua, HI 96734
Kailua Farmers' Market
Day of the Week - Thursday
Hours - 5pm-7:30pm
Location -
Parking lot behind Whole Foods and Longs in Kailua
Windward Mall Farmers' Market
Day of the Week - Wednesday & Sunday
Hours - 2:30-7pm (Wed.) 9:45-2pm (Sun.)
Location -
Windward Mall
BYU Hawaii Farmers' Market
Day of the Week - Friday
Hours - 10:30-2pm
Location -
BYU Hawaii (Aloha Center Ballroom)
KCC Farmers' Market (Most Popular Oahu Farmers' Markets)
Day of the Week - Tuesday & Saturday
Hours - 4pm-7pm (Tues.) 7:30-11am (Sat.)
Location -
KCC (Kapiolani Community College) Parking Lot C
Kings Village Farmers' Market
Day of the Week - Monday & Friday
Hours - 4-9pm Both Days
Location -
Kings Village Waikiki 131 Kaiulani Ave, Honolulu, HI 96815
Hyatt Regency Waikiki Farmers' Market
Day of the Week - Tuesday & Thursday
Hours - 4-8pm Both Days
Location -
Hyatt Regency Waikiki 2424 Kalakaua Ave, Honolulu, HI 96815
Manoa Farmers' Market
Day of the Week - Tuesday, Thursday, Sunday
Hours - 6am-2pm each day
Location -
2752 Woodlawn Dr., Manoa Marketplace Honolulu HI 96822
Aloha Tower Farmers' Market
Day of the Week - Wednesday
Hours - 11am-1:30pm
Location -
1 Aloha Tower Dr, Honolulu, HI 96813
Benjamin Parker Elementary Farmers' Market
Day of the Week - Saturday
Hours - 8am-1pm
Location -
45-259 Waikalua Rd, Kaneohe, HI 96744
HMSA Farmers' Marke
t
Day of the Week - Friday
Hours - 11am-2pm
Location -
818 Keeaumoku St, Honolulu, HI 96814
Wahiawa Farmers' Market
Day of the Week - Thursday
Hours - 4:30-6:30pm
Location -
1067 California Ave, Wahiawa, HI 96786
Queens Medical Center Farmers' Market
Day of the Week - First Wednesday of the Month
Hours - 9am-1pm
Location -
1301 Punchbowl St, Honolulu, HI 96813
Aina Haina Farmers' Market
Day of the Week - 1st & 3rd Tuesday
Hours - 5-7:30pm
Location -
5286 Kalanianaole Hwy, Honolulu, HI
Makeke Waianae Farmers' Market
Day of the Week - Saturday
Hours - 8am-12Noon
Location -
86-120 Farrington Hwy. Waianae, Hawaii 96792
Hawaii Kai Towne Center Farmers' Market
Day of the Week - Wednesday & Saturday
Hours - Wed. - 7:30am-1pm, Sat. - 7:30am-2:30pm
Location -
333 Keahole St, Honolulu, HI 96825
North Shore Country Market
Day of the Week - Saturday
Hours - 8am-2pm
Location -
59 Kamehameha Hwy, Haleiwa, HI 96712
Haleiwa Farmers' Market
Day of the Week - Thursday
Hours - 2-7pm
Location -
59-864 Kamehameha Hwy, Haleiwa, HI 96712
Waialua Farmers' Co-Op Market
Day of the Week - Saturday
Hours - 8:30am-2pm
Location -
67-106 Kealohanui St, Waialua, HI 96791
Mahiku Farmers' Market
Day of the Week - Wednesday
Hours - 3-7pm
Location -
5105 Iroquois Ave, Ewa Beach, HI 96706
Makeke Kapolei Farmers' Market
Day of the Week - Thursday
Hours - 3-6:30pm
Location -
Inside Kapolei High School 91-5007 Kapolei Pkwy, Kapolei, HI 96707
Mililani Farmers' Market
Day of the Week - Sunday
Hours - 8am-11am
Location -
95-1200 Meheula Pkwy, Mililani, HI 96789
Pearlridge Farmers' Market
Day of the Week - Saturday
Hours - 8am-12 Noon
Location -
98-1005 Moanalua Rd, Aiea, HI 96701
Kekaulike Farmers' Market
Day of the Week - Everyday
Hours - 7am-3pm each day
Location -
1039 Kekaulike St, Honolulu, HI 96817
Fort Street Mall Farmers' Market
Day of the Week - Tuesday & Friday
Hours - 7am-2pm each day
Location -
Fort Street Mall Between King Street and Hotel
Makiki Farmers' Market
Day of the Week - Thursday
Hours - 4:30-7pm
Location -
1515 Wilder Ave, Honolulu, HI 96822
Kakaako Farmers' Market
Day of the Week - Saturday
Hours - 8am-Noon
Location -
333 Ward Ave, Honolulu 96814
Honolulu Farmers' Market
Day of the Week - Wednesday
Hours - 4-7pm
Location -
777 Ward Ave, Honolulu 96814
Kaiser Honolulu Farmers' Market
Day of the Week - Thursday
Hours - 8am-1:30pm
Location -
1010 Pensacola St. Honolulu, HI 96814
Kaiser Moanalua Farmers' Market
Day of the Week - Wednesday
Hours - 8am-1:30pm
Location -
3288 Moanalua Road Honolulu, HI 96819
Kaiser Waipio Farmers' Market
Day of the Week - Every First and Third Friday of the Month
Hours - 8am-1:30pm
Location -
94-1480 Moaniani St. Waipahu, HI 96797
Manoa Valley District Park - People's Open Market
Day of the Week - Monday
Hours - 6:45-7:45am
Location -
2721 Kaaipu Ave., Honolulu HI 96822
Makiki District Park - People's Open Market
Day of the Week - Monday
Hours - 8:30-9:30am
Location -
1527 Keeaumoku St., Honolulu HI 96822
Mother Waldron Park - People's Open Market
Day of the Week - Monday
Hours - 10:15-11am
Location -
525 Coral Street, Honolulu HI 96813
City Hall Parking Lot Deck - People's Open Market
Day of the Week - Monday
Hours - 11:45am-12:30pm
Location -
650 South King St., Honolulu HI 96813
Waipahu District Park - People's Open Market
Day of the Week - Tuesday
Hours - 8:15-9:15am
Location -
94-230 Paiwa Street, Waipahu HI 96797
Waiau District Park - People's Open Market
Day of the Week - Tuesday
Hours - 6:30-7:30am
Location -
Waiau District Park
Wahiawa District Park - People's Open Market
Day of the Week - Tuesday
Hours - 10-11am
Location -
1129 Kilani Ave., Wahiawa HI 96786
Mililani District Park - People's Open Market
Day of the Week - Tuesday
Hours - 11:45am-12:30pm
Location -
94-1150 Lanikuhana Avenue, Mililani Hawaii 96789
Old Stadium Park - People's Open Market
Day of the Week - Wednesday
Hours - 8:15-9:15am
Location -
2237 South King St., Honolulu HI 96826
Palolo Valley District Park - People's Open Market
Day of the Week - Wednesday
Hours - 6:30-7:30am
Location -
2007 Palolo Avenue, Honolulu HI 96816
Queen Kapiolani Park - People's Open Market
Day of the Week - Wednesday
Hours - 10-11am
Location -
2805 Monsarrat Ave., Honolulu HI 96815
Waimanalo Beach Park - People's Open Market
Day of the Week - Thursday
Hours - 7:15-8:15am
Location -
41-741 Kalanianaole Hwy, Waimanalo, HI 96795
Kailua District Park - People's Open Market
Day of the Week - Thursday
Hours - 9-10am
Location -
21 S Kainalu Dr., Kailua HI 96734
Kaneohe District Park - People's Open Market
Day of the Week - Thursday
Hours - 10:45-11:45am
Location -
45-660 Keaahala Rd, Kaneohe, HI 96744
Halawa District Park - People's Open Market
Day of the Week - Friday
Hours - 7-8am
Location -
99-795 Iwaiwa St, Aiea, HI 96701
Ewa Beach Community Park - People's Open Market
Day of the Week - Friday
Hours - 9-10am
Location -
91-955 N Rd, Ewa Beach, HI 96706
Pokai Bay Beach Park - People's Open Market
Day of the Week - Friday
Hours - 11-11:45am
Location -
85-037 Pokai Bay Road, Waianae Hawaii 96792
Kamehameha Community Park - People's Open Market
Day of the Week - Saturday
Hours - 6:30-7:30am
Location -
1400 Kalihi St., Honolulu HI 96819
Kaumualii Street - People's Open Market
Day of the Week - Saturday
Hours - 8:15-9:30am
Location -
700 Kalihi Street, Honolulu Hawaii 96819
Kalihi Valley District Park - People's Open Market
Day of the Week - Saturday
Hours - 10-10:45am
Location -
1911 Kamehameha IV Rd, Honolulu, HI 96819
Salt Lake Municipal Lot - People's Open Market
Day of the Week - Saturday
Hours - 11:15-12Noon
Location -
5337 Likini Street, Honolulu HI 96818
Hawaii Kai Park and Ride - People's Open Market
Day of the Week - Saturday
Hours - 1-2pm
Location -
300 Keahole Street, Honolulu HI 96825
Kapolei Community Park - People's Open Market
Day of the Week - Sunday
Hours - 7-8:30am
Location -
91-1049 Kamaaha Loop, Kapolei, HI 96707
Royal Kunia Park and Ride - People's Open Market
Day of the Week - Sunday
Hours - 9:30-11am
Location -
94-640 Kupuohi St, Waipahu, HI 96797
Waikele Community Park - People's Open Market
Day of the Week - Sunday
Hours - 11:30am-12:30pm
Location -
94-870 Lumiaina St, Waipahu, HI 96797
Written by:
Brandon Hughes
PUBLISHED: Oct 30th 2017