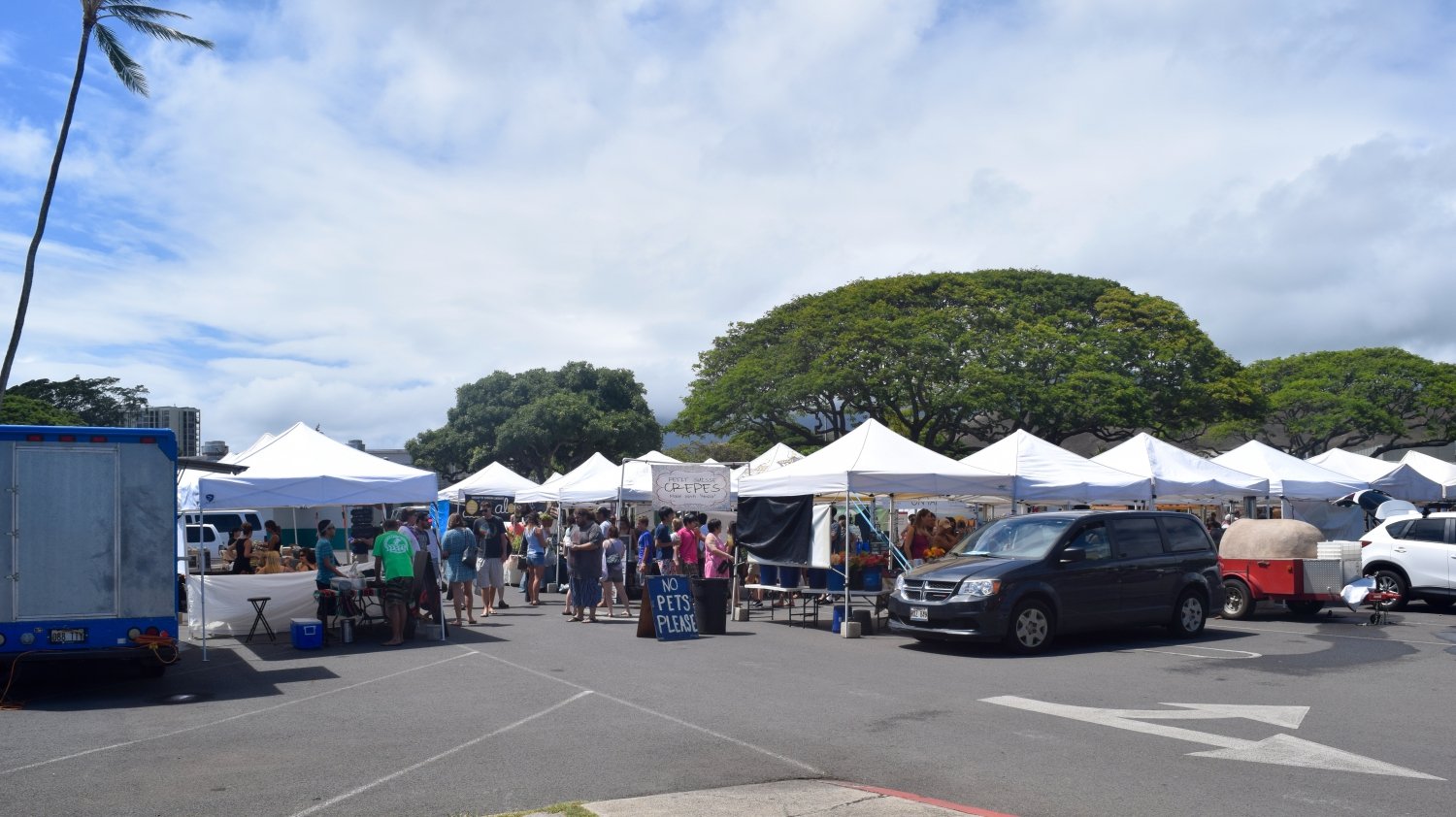 Kailua Town Farmers Market
Family Fun Food & Drink
Located: Kailua Elemetary Google Map Link
Hours: Sundays - 8:30am till Noon
Parking: Parking for this farmers market can be found in several locations - On street parking and nearby side streets, Kailua District Park has parking along side of entrance to market and on the other side of tennis courts (this parking also extends along the baseball field).
Restrooms: There are nearby restrooms located in the Kailua District Park, hours are 9am-9pm.
Kailua Town Farmers Market is located in the parking lot of Kailua Elementary School, not to be confused with the other Kailua Farmers Market which is held in the parking lot near Kailua Longs and Whole Foods. We have a post about that farmers market HERE! This farmers market is definitely laid back with locals and visitors moving at "Sunday Morning" speed, grab a cold lemonade and take your time.
If you like to get your vegetables early in the day and before you start your week, the Sunday morning hours make this farmers market a perfect fit. Farm fresh eggs are ready for you to pick through along with a wide assortment of vegetables. If you like your bread fresh from the oven be sure to stop there first, the popular ones go quick.
If you are heading out to the beach for the day be sure grab some fresh coconut water to hydrate, no need for the store bought ones, these come direct from the source.
While some of the vendors only show up for this farmers market there are several that can be found at some of the larger and busier ones. Enjoy talking and getting to know the vendors in a much more relaxed atmosphere. A good conversation with a knowledgable vendor can help you understand the local agricultural scene and educate you on how to support locally grown food.
Beyond the fresh vegetables you will find several vendors selling some unique breakfast foods and dishes. With some markets on Oahu happening in the afternoon and evening hours you really get the feeling of "starting your day of right", even if you plan on heading back home for a Sunday afternoon nap. After visiting several farmers markets on the island the one thing I always enjoy is seeing my food prepared right in front of me.
If you are not hungry, just want to browse and see what is available then I suggest grabbing a fresh lemonade or slushy to enjoy.
If you make it thru the market in under 10 minutes then you need to slow down and take another pass. Put your phone away, look at the people, update your status later, take a mental picture, and make a nice comment directly to someone. You will be amazed at how many likes you will get.
Written by:
My Guide Hawaii
PUBLISHED: Oct 12th 2017