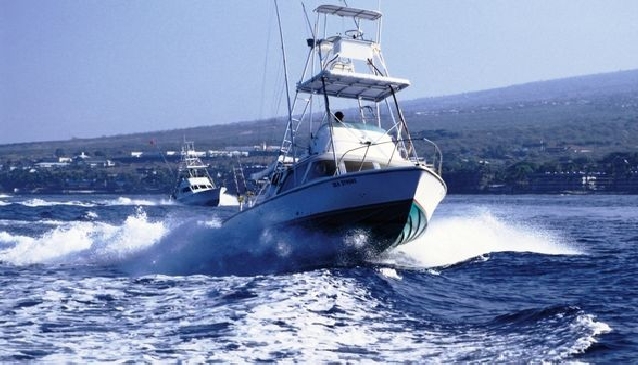 Fishing for Fun
Inspiration
Peak season for lowering your lure in Kona is from July to September.
Now I know what you are thinking, how can fishing be a sport? I thought it too. Well, not only is it a sport but it is one of the best sports out there, and one of the most exciting things to do in Hawaii. A bold claim I know, but just think about it, classed as a 'recreational sport' what could be better than bobbing around on a boat, soaking up some sunshine and waiting for an enormous salt-water fish to take the bait. Bliss, if you ask me.
However in Kona, Hawaii, bliss just doesn't even cover it. A small district made up of several towns, this vibrant area is shielded by two tall mountains towering at 14,000ft. Protecting the Kona coast from any wild winds, the pleasantly calm waters here make for perfect fishing conditions increasing the chances of catching some incredibly large game fish. And, with the water depth dropping dramatically just 3 miles offshore of the Kona coast it is also possible to do some deep-sea fishing here; a fisherman's dream destination!
Peak season for lowering your lure in Kona is from July to September, when the fishing tournaments are in full swing. However, fishing boat charter is available all year round with plenty of places where you can jump on-board a hired boat. Just ten minutes north of Kailua-Kona for example, you can hire a selection of fishing boats in the Honokokau Harbour.
Amongst the flurries of exotic Hawaiian fish in Kona, you can expect to find colourful catch such as the striped marlin, mahi-mahi, yellowfin tuna (ahi), ono (wahoo), shortbill spearfish and several species of shark including the mako. During select periods, such as the summer and winter months, certain other fish can be caught including the black marlin, broadbill swordfish and the pacific sailfish. However, the ultimate big game fishing challenge has to be the pacific blue marlin. Being the only place where marlins are caught on a daily basis, Kona is a great place to put your fishing skills to the test. And, with marlin weighing more than 1,000 pounds here, you never know your luck!
Boat chartering costs can range from $400-$1300, depending on the company and type of charter. The lower end of this cost bracket usually covers a half a day charter, whereas the top end is more typical for a full day charter.
But before you head off - line, rod, reel and hook in hand - just a note of warning that the catch must stay with the boat. I know, I know, it would be nice to take your prized possession home and hang it on the wall but before you get all glum, you will be able to take some delicious fresh fillets home for supper, (if you ask your captain nicely). And not to mention the invaluable pride from bringing back to shore the catch of the day!
Bon Voyage…
Main image photo credit: Kirk Lee Aeder
Written by:
Brandon Hughes
PUBLISHED: Jun 9th 2017