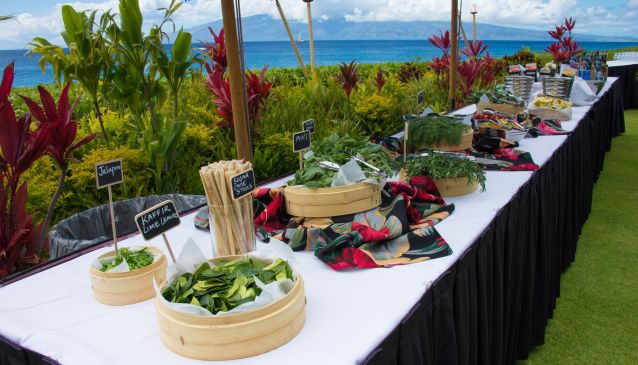 Ka'anapali Fresh Festival
Arts & Culture
Ka'anapali Fresh Festival Showcases Maui Chefs, Farmers and Fishermen
A great idea has to build, be tested and constantly improve.
Maui's
Ka'anapali Fresh Festival August 29 -31, 2014 will be the third year of this stellar showcase of Maui bounty and you can bet it will be more refined, more creative and feature more Hawaiian soul. Events take place at various venues on Maui's sunny west coast at the foot of the West Maui Mountains in the resort area of Ka'anapali, not far from the famed port of Lahaina.
Interested ? Here are some things you'll want to know:
The first event of Ka'anapali Fresh festival is divided into three periods of the evolution of the Hawaiian culinary timeline. It begins with the welcome ceremony of 'Aha'aina O Ka'anapali on the beach at sunset. The beautiful Hawaiian double-hulled sailing canoe Mo'okiha o Pi'ilani will lead smaller canoes to the shore and be welcomed by exchanging chants and gifts with those onshore.
Dinner guests will savor the clean, simple flavors of the early Hawaiian diet in the " Old Hawaii" offerings of fish, sweet potato, limu ( seaweed) and kalo (taro). "The Golden Era" will glorify Hawaii post -contact when the royals sailed to Europe, huge ranches and plantations covered the landscape and food like beef, pork and pineapple could be found at table. Finally the homage to Hawaiian Regional Cuisine is served and through the flavor profiles diners will taste the cross-cultural influences and freshest ingredients cooked with French and Pan-Asian techniques and offered at the
Westin Maui Resort
& Spa
.
Want to learn to create a signature cocktail like the Dragonberry Bomb from a master mixologist? You can drink your handi-work while enjoying a lovely lunch at the Fresh Mixology 101: Ka'anapali Craft event at
Sheraton Maui
. H
How about a wine pairing dinner with the best boutique wines from the world's leading vintners? Ka'anapali Fresh Food & Wine Festival from Range to Sea at the
Royal
Ka'anapali Golf Course
will be the place.
Ever thought about a cook lesson beachfront under the stars? Join your new BFF's at Kitchen Stadium Under the Maui Moon. They have you covered with 6 chefs, 6 courses and gala dinner at the
Hyatt Regency Maui Resort &Spa
.
Just like you do at home, you can visit with farmers on a Maui farm tour or stop by the Saturday Whaler's Village Farmer's market.
This kama'aina recommends Ka'anapali Fresh festival as the perfect trinity; it is in its third year, provides three days of fabulous events and is a combo of culture, cuisine and cocktails in Ka'anapali. And it is fun for locals and visitors alike. Come, stay and celebrate our Ka'anapali cuisine. Tickets and info at
www.kaanapalifresh.com
Photo and Video Credits - Ka'anapali Beach Resort Association
Written by:
Brandon Hughes
PUBLISHED: Jun 9th 2017