Tale of Two Hawaiian Palaces
Arts & Culture
...the preservation work of the Daughters of Hawaiʻi is exemplary
The Daughters of Hawai'i, a woman's philanthropic association was formed in 1903 to preserve the historic sites, language and culture of the Hawaiians. It seems rather ironic today that the original seven women who formed the "Daughters" were children of American Protestant missionaries who arrived to affect a sea of change to the Hawaiian's fundamental beliefs and culture; but it's true. In the early 1800's the missionaries arrived in the islands just as Liholiho, Kamehameha II issued orders to abolish the ancient kapu system and heiau ( temples). The missionaries gradually increased their influence and many did "very well" in the islands outside of their Christian duties. But the ancestry of the society founders not withstanding; the preservation work of the Daughters of Hawai'i is exemplary.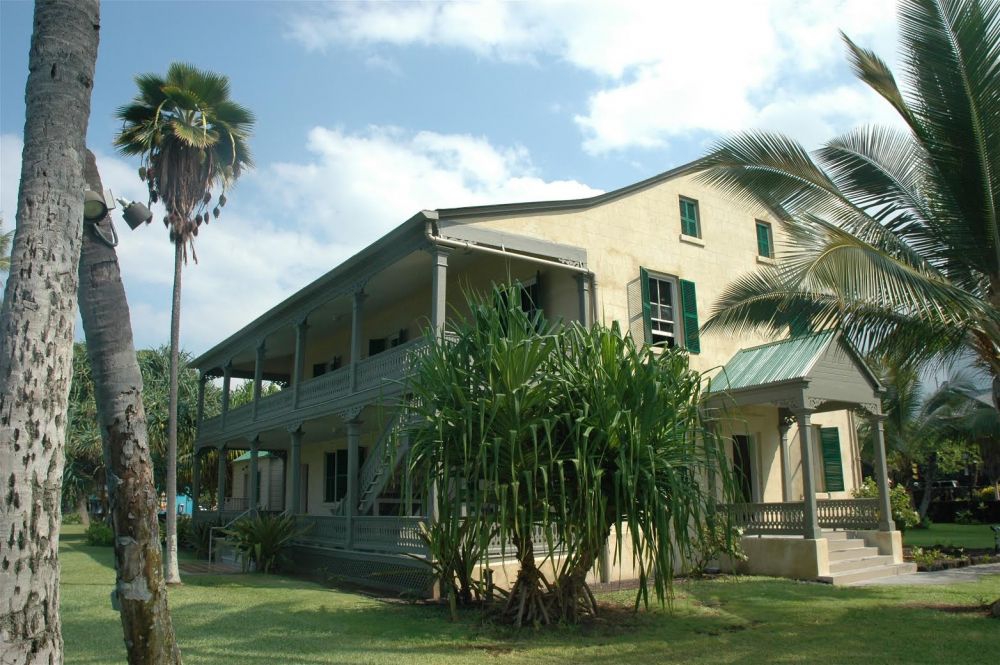 Without the Daughters, Queen Emma's Summer Palace in Nu'uanu Valley also known as Hanaiakamalama would have been torn down for a ball field. Originally built in 1847 by a Mr. John G. Lewis, a part-Hawaiian merchant, and purported to have been framed in Boston and shipped around Cape Horn, the one-story structure has large symmetrically placed doors and windows on all sides allowing for cooling Nu'uanu breezes to flow through. A lanai runs the width of the front with the high roof supported by six Doric columns. The style, Greek Revival was distinctive in the Honolulu of the mid-1800's. The home passed through the hands of John Young II who named it Hanaiakamalama after his family house on the Big Island. Mr. Young II used to lend the house to his niece Emma Rooke and in 1857 bequeathed it to her in his will. Emma who married King Kamehameha IV, Alexander Liholiho, favored the house in the hotter months. It was here she, her husband and small son planted several trees, some of which still stand today.There is much more to this story and the fascinating history that took place inside the walls of this home. Queen Emma lost her beloved little boy Prince Albert to disease and then her husband shortly after, some say of a broken heart. With noble bearing, she continued on with her charities and love for her Hawaiian people, building schools, churches and a hospital ( now The Queens Medical Center  
http://queensmedicalcenter.org
 ) but always returned to spend time at her Nu'uanu home in summer. It is said that she wrote of her greatest heartbreak in reference to her family's brief time together Hanaiakamalama; " first there were two, then three, and now only one." See the little boy's fireman coat, cradle and a plethora of Hawaiian royal artifacts and Victorian items sent by Queen Victoria herself. Visit at 2913 Pali Hwy, Honolulu. Info on tours, hours online at  
http://daughtersofhawaii.org/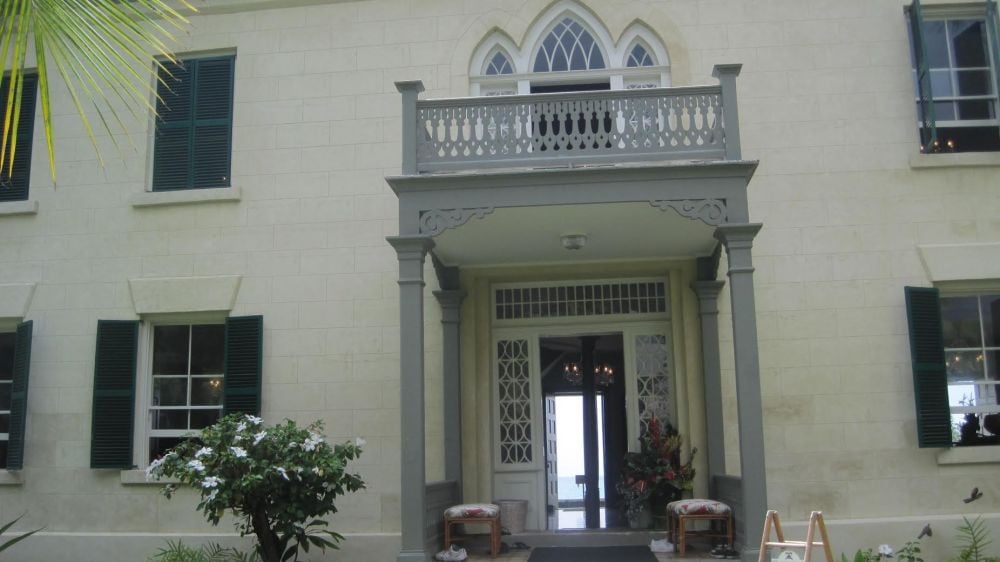 Hulihe'e Palace in Kailua, Kona on the Big Island (
huliheepalace.net/
 ) is an even older structure with far more history. It was saved by the Daughters of Hawaii from being razed for a hotel. In 1837 John Adams Kuakini a cousin of Kamehameha I and the Governor of Hawaii Island, began construction of a residence on a lava field next to the sea. The two story home was built of stone and featured koa paneling inside. Today a deep lanai wraps both stories on the ocean-side of the building capturing onshore breezes off the water. The Governor Kuakini did not have too much time to enjoy Hulihe'e. He died in 1844. The home was inherited by his adopted son, Leleiohoku, who then left it to his widow Princess Ruth Ke'elikolani. The Princess had a generous spirit and lived in two worlds. She liked the latest couture from Paris, built a huge formal mansion in Honolulu, and rode in a fine carriage, but when at Hulihe'e, she slept under kapa in her large pili grass house on Palace grounds.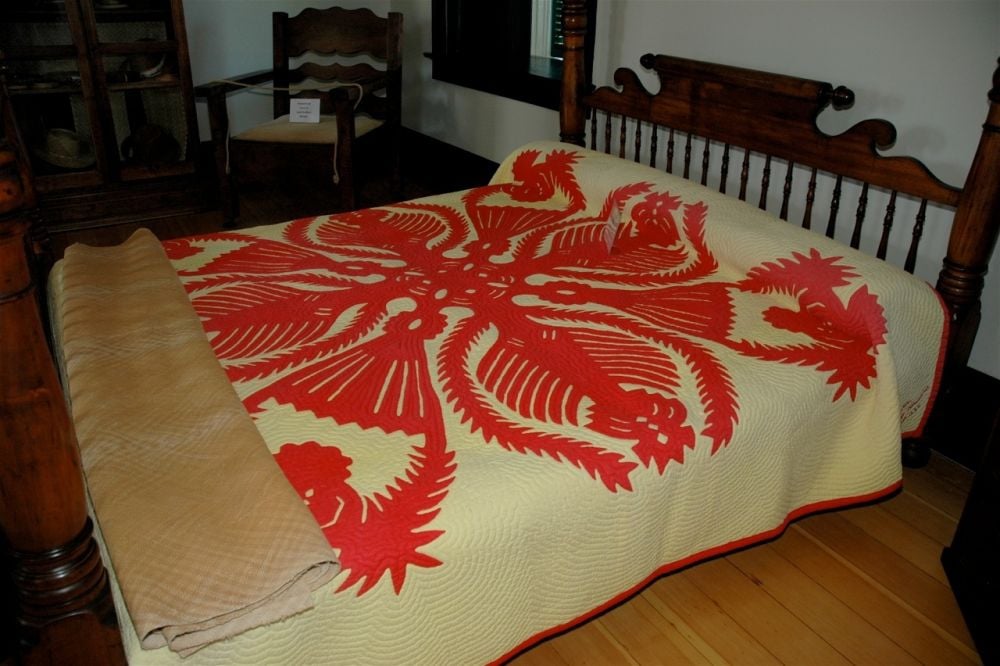 King Kamehameha IV and Queen Emma also loved to visit Hulihe'e, as did royals from Europe. After Princess Ruth became ill and died there, it passed to Princess Bernice Pauahi Bishop and later sold to King Kalakaua. He enjoyed living there and made many improvements to the building influenced by his travels abroad to Europe. This is important note because when the Daughters sought federal funding to preserve the building ( later becoming a National Historic Site), it was required to be restored to a particular time period and style according to the 1966 Historic Preservation Act. So they selected Kalakaua's time as he had added the wide lanais. Again the same story is told; after King Kalakaua's death, Hulihe'e passed through several hands, was emptied of royal furnishings and left to rot. If in 1928 the Daughters of Hawaii had not stepped in to restore and defend Hulihe'e, it might have been destroyed and a hotel built on this land so loved by the ali'i. Instead it is a 'living" reminder of Hawaiian lineage and a place that provided respite to the ali'i and their families. It is also a testament to some strong women of missionary stock who were wise enough to preserve as museums, these two palaces we hold dear in Hawaii today. Learn about the history at Hulihe'e in Kailua, Kona, hours of operation and find out about the Daughters at
www.daughtersofhawaii.org
. Both properties available to rent for weddings and events. 
 CREDIT: images and special thanks to 
Queen Emma Summer Place Foundation, 
Fern Gavelek and MWmedia. Queen Emma image from Hawaii State archives.