'The Treasures of Manoa Valley'
Arts & Culture
...only a few minutes away by car
Our Top Experiences and Tours in Hawaii:
If youʻre booking your trip to Hawaii last minute, we have you covered. Below are some of the top tours and experiences!

Everyone loves to frolic in the gentle surf of Waikiki. But when you've had enough fun in the sun, there is a hidden world nearby for you to explore. The treasures of Manoa Valley are only a few minutes away by car.

 

Manoa Valley is one of the jewels of Oahu. This lush, verdant place was favored by the Hawaiians for rich soils and running streams needed to cultivate their kalo (taro) in the lo'i. Later immigrant truck farmers raised lettuce, rice, fruits and vegetables on small parcels. Cane was also planted on the flats to see if it would be a viable crop tucked in among the increasing number of captains of industry and missionary families who moved there to build their mansions along Manoa Road and Oahu Avenue. Over the years Manoa grew up and today remains a favorite residential community with a rare mix of old elegant homes, smaller twentieth- century houses that exemplify good and not-so-good design, and a few apartments. But overall it retains its charm, mystery, cultural relevance and natural beauty and should be on your must-see list on Oahu.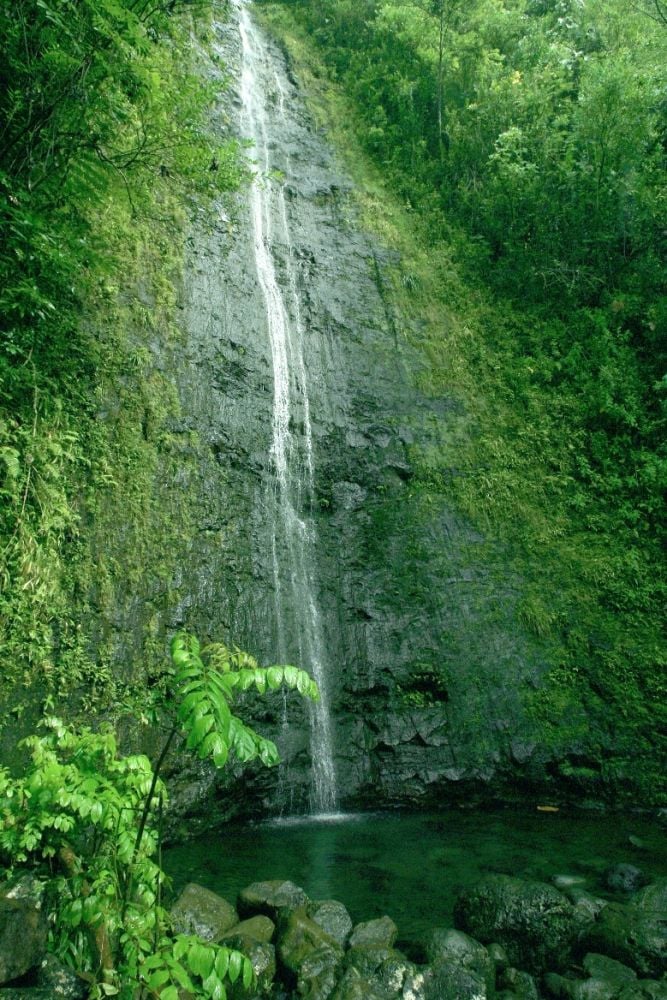 Manoa Heritage Center
Manoa Valley is part of the Waikiki ahupua'a which is one of the ancient Hawaiian land division systems that ran from the top of the mountains to the sea. The ahupua'a provided food, clothing, medicine and everything else one needed for life. Here at the Manoa Heritage Center surrounded by a number of native plants you will find a garden with plants called " canoe plants", the twenty-four or so plants the Polynesian settlers first brought to Hawaii by canoe. One example is the kukui or candlenut tree which produces the black or brown kukui nut used for food, seasoning, oil, cosmetics and in ancient times used as candles. The most magnificent hidden treasure here is the thousand -year-old, hand-laid stone heiau called KÅ«kaʻōʻō or "standing digging stick" referring to agricultural practices. It is preserved and lovingly cared for by landowners the Cooke family, along with the center's volunteers and is open to the public for guided tours. Address and details given at booking.
Manoa Chinese Cemetery
On thirty- four acres of Manoa Valley sits the oldest and largest Chinese cemetery in Hawaii. Founded as an honorable final resting place for the ashes of Chinese immigrants by Mr. Lum Ching in 1852, it was at first under the care of the Lin Yee Chung Society. Later the United Chinese Society was formed in 1884 to handle the management of the cemetery. Falling on hard times over the years, three men, Wat Kung, Chun Hoon and Luke Chan cleaned up the place and resisted the local residents who, wanted the cemetery closed and removed. The Lin Yee Chung Association still operates the cemetery and it is opne to the public. Wander the memorials, marvel at the Chinese zodiac animal statues or look for 1920's Honolulu detective Chang Apana's grave marker. He was the inspiration for the famous " Charlie Chan' series of books and movies. Visit during daylight hours, this place is super spooky at night. 3225 Pakanu St.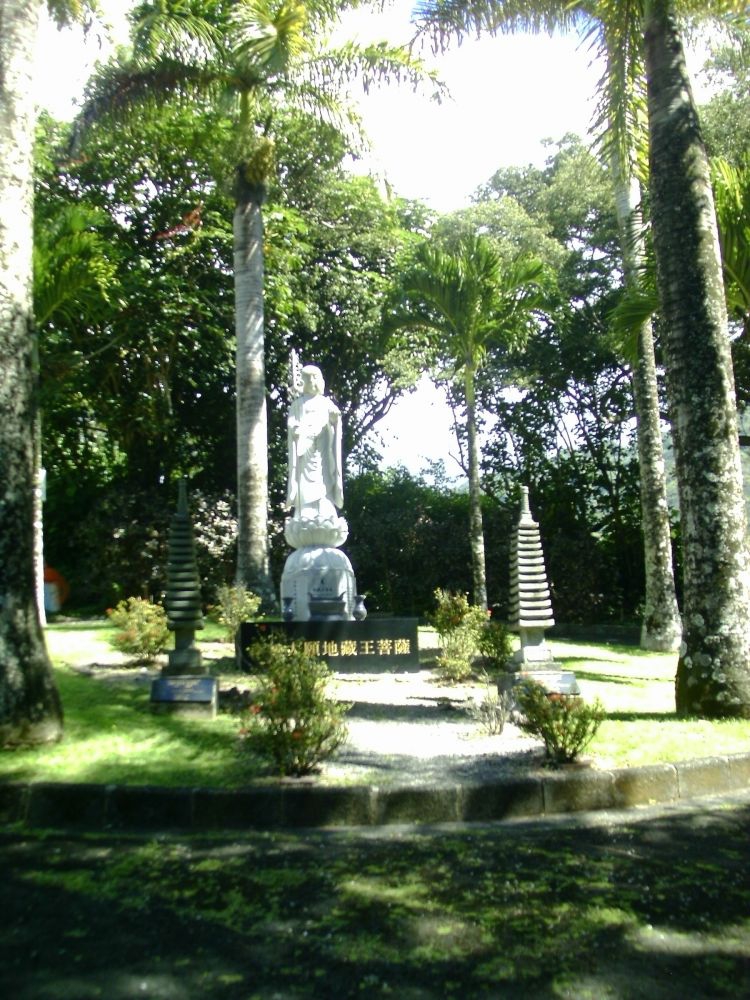 Manoa Valley Theatre
Nearly forty-five years ago a group of graduate students in the University of Hawaii Theatre Department founded Hawaii Performing Arts Company (HPAC). Fast forward many years and many performances, renovations, capitol campaigns and visiting artists and Manoa Valley Theatre has a beloved place in the hearts of the local Hawaii audiences. But there is no reason a visitor can't make reservations and enjoy the local scene while here. Enjoy this small, low-key venue and see contemporary plays, Broadway musicals, off-Broadway shows, and sometimes the debut of and island playwright here at MVT, as it is known. Opening night is always special with a profusion of leis offered to the local talent by friends and family after the show. 2833 East Manoa Road 
http://manoavalleytheatre.com/index.html
Lyon Aboretum
Here, you will absolutely find the island splendor you were looking for when you booked your vacation in Hawaii on the nearly two hundred acres of a planted tropical rain forest wonderland. Forget over-crowded Manoa Falls nearby and continue up the road to Harold L. Lyon Arboretum, where in addition to paths and many hiking trails through labeled specimens and an endemic Hawaiian plant garden, you can hike to a lesser-known waterfall 'Aihualama.
In the 1920's Dr. Harold L. Lyon was hired to create an economic viability specimen garden and to reforest this watershed made barren by cattle, for the Hawaiian Sugar Planters Assoc.. He did a fantastic job and then convinced the HSPA to donate the land and garden to the University of Hawaii in perpetuity as an arboretum and research facility. Through the years it has become a leader in conservation biology, Hawaiian ethno-botany and horticulture.
After the closing of nearby Paradise Park, parrots and other tropical birds escaped and took up residence in the high canopies of the trees in the garden, many finding the native species of their home countries to roost in and establish colonies. You will enjoy playing hide-and-seek with the birds as you hike. Go to the website for trail info. Plan to stop in at the Welcome Center and gift shop to leave a small donation but the garden and parking are free. Guided tours available and cost $5 per person. Proper footwear and mosquito repellant a must. Located at the end of Manoa Road. Check website for hours of operation, events, classes on arts and crafts and Hawaiian culture.
http://manoa.hawaii.edu/lyonarboretum/
Wai'oli Tea Room and Bakery
The old standard for kama'ainas celebrating a bridal or baby shower or simply for ladies who lunch, is still a local favorite. Built in 1922 of stone and wood in a style very prevalent in Hawaii at the time, it was part of the Salvation Army's social programs to house the less fortunate and offer training, and is on the National Register of Historic Places. Salads especially the curried chicken and the leisurely afternoon tea are great here. Leave room for liliko'i anything, or haupia coconut cake for dessert. The banana bread has been a specialty for generations and you can purchase some to take home along with custom blended teas in the gift shop. Indoor and patio seating. Make reservations. Lunch and limited breakfast. 2950 Manoa Road.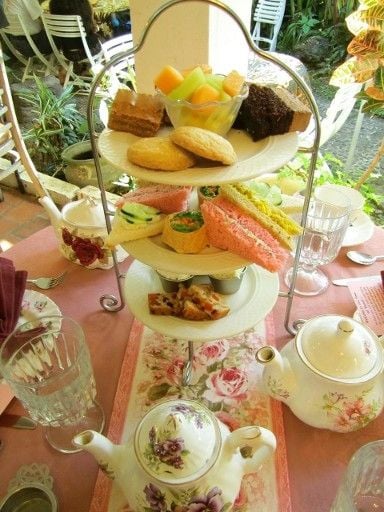 East- West Center (EWC) and Gardens
Building began in 1960 for the East-West Center on a spot that is equidistant to Asia and the US., a truly mid- point for eastern ( Asian) and western cultures and societies to study each other. The center and lovely gardens are feed by Manoa stream and located on twenty -one acres adjacent to the University of Hawaii at Manoa campus at the very mouth of the valley. They are open to visitors for the price of parking. Cultural and art displays and events take place in the EWC Gallery. The gardens contain a Japanese tea house that hosts traditional tea ceremonies on occasion, and an elaborate Thai structure in the Thai garden dedicated with the royal seal of by their Majesties King Bhumibol Adulyadej and Queen Sirikit of Thailand. 1711 East-West Center Road
Contact EWC for directions and parking.
eastwestcenter.org/events/east-west-center-events
To get to Manoa from Waikiki: Take Kalakaua Avenue and make left on to Kapahulu Avenue. Continue to left on Waialae Avenue, stay in right lane and get on the H-1 freeway heading west. Stay in right lane as you will immediately get off on the University Avenue exit. Turn right on to University Avenue and up into Manoa Valley or take a right onto Dole street to visit the East -West Center. Use individual addresses provided.
Photo Credits - Manoa Heritage Center, Waiʻola Tea Room, Oahu Visitor Bureau