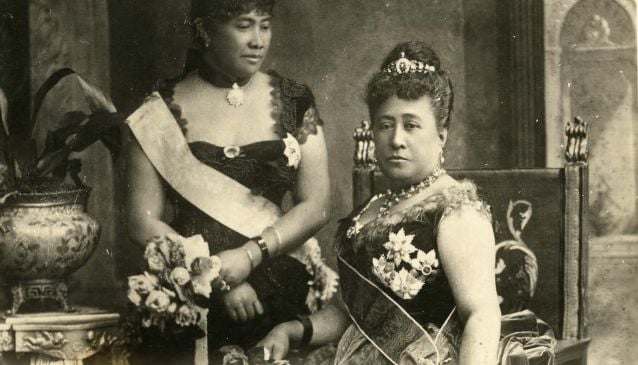 All Things British in Hawaii
Arts & Culture
Take a good look around Oahu and you'll see many British influences...
Take a good look around Oahu and you'll see many British influences. Generally it began with the royals as they adopted the customs, dress and style of Britain post-contact. On your next visit to Hawaii see how many you can find. We have included a few here, as well as the Moana Hotel; a grand old place where you can experience that "veddy- British" hold-over: afternoon tea.
Architecture
The most prominent building of its time was the royal '
Iolani Palace
' with its ornate grandstand built by His Highness King David Kalakaua for his English-style coronation ceremony.
Portraiture
The
Bishop Museum
has a hall dedicated to the Royals that includes their kahili (feather standards) along with the portraits of Hawaiian kings, queens and assorted royals attired in the latest fashions from Europe replete with medals, sashes, boots, shoes and an epaulet or two in grand European style.
Street Names
Many English references can be found via the street names. Near the 'Iolani Place, a busy thoroughfare named " Beretania," is the Hawaiian way of saying "Britannia".
The red, white and blue flag of the 50th State resembles the British Union Jack with elements of the American flag too. Here is why: after Kamehameha the First unified the islands, he moved his royal household and seat of his rule to
Oahu
. As foreign ships began to stop in Honolulu Harbor more frequently, always with their flags flying, the King felt he needed a flag too. With permission from England, he borrowed the Union Jack to show the protection of the friendly British government to ward off potential international threats to his nation.
Many years later as American interest also grew in Hawaii, a Hawaiian flag was designed by English captain George Beckley for the Hawaiian Republic. It incorporates horizontal stripes as in the American flag, representing the eight main islands and of course the British Union Jack.
English First Names
Missionaries taught the English language to the Hawaiian native so they might read the bible (ka Baibala) but to do so the spoken-only Hawaiian language was painstakingly transcribed into English. Even so, the new religion was only accepted many years after the missionaries arrived, after one royal converted to Christianity. Soon after, naming babies with English or biblical first names became popular beginning with some royals. Along with their descriptive Hawaiian names and genealogy names, royals had names like Victoria, Elizabeth, William, David, Lot, Alexander, and Moses.
Travel to the Europe
Following "discovery" by British Captain Cook, and subsequent continued trade with the British, Hawaiians began to travel on the ships either as hands or to see the world. Royals soon began their own European travel. King Kamehameha II (Liholiho) and his wife Queen Kamamalu and entourage sailed for many months, half-way around the world to England.
Received as royals and entertained by royalty in London, they soon contracted measles and having no natural immunity died there in 1824. In Hawaii, it has always been said of this sad voyage home, that the sighting of the ship was met by the loud wailing of the inconsolable Hawaiian people as it sailed into Honolulu harbor carrying the bodies of their king and queen.
Style of Dress and Jewelry
The Hawaiian royals continued to travel to England. Queen Kapiolani and Princess Liliuokalani (later the last queen) attended Queen Victoria's Golden Jubilee in 1887. Queen Kapiolani, one of the highest ranking royals in the world to attend the Jubilee, was seated with the Princess in the front rows of Westminster Abbey.
The two Hawaiian royals, personal friends of Queen Victoria's, acquired gold and black enameled bracelets there. This style of bracelet, called "Hawaiian bracelets" in Hawaii today, are highly prized by women in Hawaii and are generally given and received as a rite of passage or to commemorate a special event in their lives.
Tea and Parties
King David Kalakaua, dubbed " the Merry Monarch" liked to give elegant dinner parties, entertaining in grand European style. He also hosted many Brits at his palace and they in turn introduced him to their customs including afternoon tea.
The Royal Treatment For You
Fine tea served with Hawaiian elegance has been a favorite for over a century at the
Moana Surfrider Hotel
not far from where King Kalakaua's royal summer residence once stood. From the Moana's covered veranda you can enjoy an afternoon gazing out upon the same ocean Kalakaua so loved. Once you are seated, a "tea adviser" will come to your table with samples of tropical blend teas and will describe the flavor profile of each. Two favorites to ask for are the "Moana Sunset"with tangy ohelo berry and sweet mango and "Veranda Breeze' a rich blend of caramel notes and Hawaiian vanilla.
Tea begins with an assortment of delicate, savory sandwiches followed by a three-tiered tower of sweets. Scones with Devonshire cream and lemon curd, petit fours, cream puffs, chocolate opera, fresh fruit tarts,mango cream profiteroles, and macadamia Florentines are offered. The Moana Surfrider afternoon tea is served on
The Veranda
daily from 12 to 3 p.m. Tea service is $34 to $48 (plus tax) per person.
Photos courtesy of Diana Su, Moana Hotel
Written by:
Brandon Hughes
PUBLISHED: Jun 9th 2017