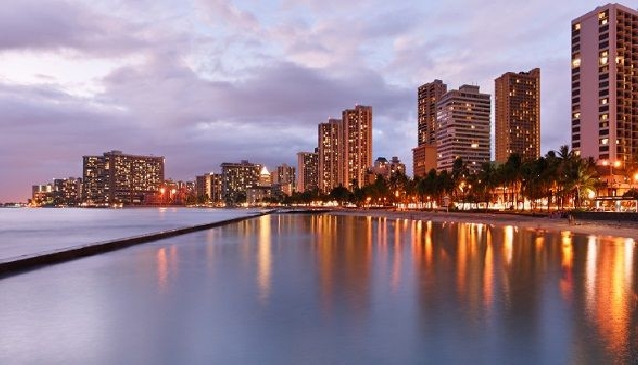 Free Frivolity in Waikiki
Inspiration
A place that pulses with life, Waikiki is a trendy tourist-trap in every sense of the word.
A place that pulses with life, Waikiki is a trendy tourist-trap in every sense of the word. Neighbour to Honolulu, on the south shores of Oahu, Waikiki buzzes with busy boutiques, resplendent restaurants and a sparkling sea-front shoreline. But, as with all shameless shopping, gastronomy-gorging and beach-bed-tanning, everything comes at a cost. However, what happens when the cash flow dries up and you are left wallowing in self-pity, with more than a little surplus energy?
Well, here's what: Friday night fireworks, torch lighting ceremonies and cultural art walks. Stepping in to save the day, our local franchise has scoured-out some of the best ways to indulge in fun-filled-frivolity and experience Hawaii culture, all for free!
So, put that wallet away and spend your time, (not your money), working your way through this luscious list of activities. I apologise already for the following frothy song-title allusions, but in the true name of frivolous fun, we felt that it was most necessary….
Baby, you're a Firework
Kick off your weekend of free frivolity with an explosion of colourful entertainment. Yes, you've guessed it, fireworks. Hosted by the Hilton Hawaiian Village, a complimentary sky-screeching display is put on every Friday night for everyone to enjoy, starting at 7.45pm. Although only a short medley of colour and sound, lasting a mere ten minutes, this electrifying event will leave your ears ringing in excitement. For prime viewing, head to either Waikiki Beach or Ala Moana Beach Park, where you will witness panoramic views of this sensational spectacle. Now all you need to complete this fun frivolity is a big basket of tasty picnic treats, (ok, not completely free but definitely worth it!).
A Candle in Wakiki's Wind
Elton John may have sung about it but Waikiki puts words into actions with their Kuhio Torch Lighting Ceremony. Occurring a few times every week (depending upon the weather) people gather at Kuhio beach, a specific section of Waikiki beach between the Moana Surfrider Hotel and the Kapahulu Groin, to watch the ceremonial burning of torches. Following this tradition a collection of skirt-swishing hula dancers take to the sandy stage, bringing this lively ceremony to a close. Arrive promptly at Kuhio beach at 6.30pm as this hour of animated action is not to be missed!
Rule the World
For culture without any costs, head to the King's Village to witness the changing of the Royal Palace Guards. Running like clockwork at 6.15pm every day, during this longstanding Waikiki tradition dating back to the 1800s, uniformed soldiers guarding the palace gates changeover duty. This is truly a priceless way to learn about Waikiki's royal roots, (sorry, it had to be done!).
Walk this Way
Friday night should be officially classed as 'freebie night' in Waikiki. On-top of the ceremonial big bang that is the fireworks display, there is also a wealth of opportunities for the art-lover flying around for free. Just a short taxi ride outside of Waikiki, on the first Friday of every month, a giant block party is organised to showcase the local artistic talent. Held in Chinatown in downtown Honolulu, between the hours of 5-9pm, art fanatics can follow a self-guided walk to browse the collections of local art galleries, boutiques, cafes and shops. Don't worry if you do miss this First Fridays event however, as there is always 'Second Saturdays' following suit with a second staging of this crowd-pleasing affair.
Itsy, Bitsy, Teenie, Weenie, Yellow Coconut Bikini
Yes, I know the lyrics are actually 'yellow polka dot bikini' but coconut was so much more fitting; we are in Hawaii after all. But, back to the fun frivolity for free; both the International Marketplace and Royal Hawaiian Shopping Centre host fantastic hula shows for free. Watch in amazement as a collection of hula girls swish their hips to the soft and soulful sounds of the ukulele.
Everybody's gone Surfin'
And last, but by no means least, on our list of free frivolity is Waikiki Beach. While the sun-beds may come at a cost, they will never be able to put a price on those golden grains of sand; so soak up the sunshine aplenty because where fun-filled free time is concerned, it doesn't get any better than this.
Written by:
Brandon Hughes
PUBLISHED: Jun 9th 2017