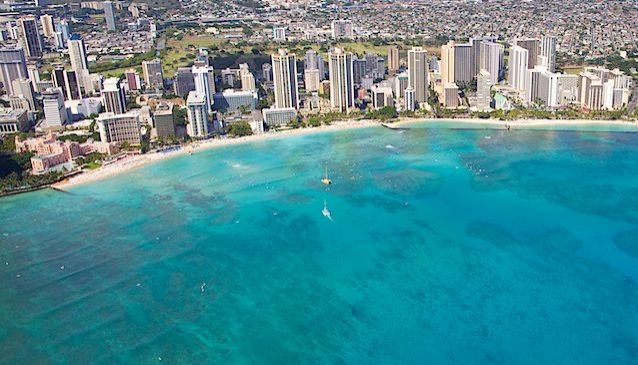 Top 5 Hotels in Waikiki for your Hawaii Wedding
Arts & Culture
This is vintage romance at its best
Are you ready to fulfill your dream of a wedding in Hawaii? What's great is, that way, you're already in the greatest honeymoon spot in the world! A good way to get the most out of your time here is to learn about Oahu and what the life of this place is like, using neighborhood guides like here. It all starts, though, with your wedding and Waikiki is easily the top destination choice for getting married. That's why we've chosen the 5 Best Waikiki Wedding Hotels. See what they are and why they're the top choices to make your special day even more memorable!
This very well may be the ultimate in classic Hawaii nuptials. The Pink Lady's Mediterranean architecture, elegant art deco décor and the reception & dining areas right on Waikiki Beach make this the dream site for local & destination weddings. The pricing is decidedly upscale and you'll need to book early to make sure you get in, but when you tell people that your wedding was held at the Royal Hawaiian, you're sure to impress. This is a world famous icon and the pictures alone, with the backdrop of this incredible vintage hotel, pink from top to bottom, will make your wedding photos a popular draw at any gathering for years. Getting married in Hawaii is wonderful, but getting married at the Royal Hawaiian is something else entirely.
Known as the First Lady of Waikiki for good reason. It was the first real hotel here, built in 1901, when Kalakaua Avenue was a dirt road. Brides love the old Plantation look of the building, which extends inside where you can still enjoy the creaking wooden floors and ceilings, built high to help air circulation before AC was even invented.There's even a long line of rocking chairs on the front lanai. This is Vintage Romance at its best. Your ceremony can be done outside right next to the beach, with the sounds of the waves accompanying you. Don't miss getting photos by the famous banyan tree in the courtyard, planted in 1904. It's a beautiful symbol of your own future, growing as one together.
Thinking about an indoor wedding? Then take a look at the Wedding Chapel here. Floor to ceiling arched windows, country church architecture and an all white interior, the building looks like it's built on top of a waterfall. It's a stunning setting. Luxurious lounge areas and bridal room are in the downstairs, actually street level, with the sanctuary upstairs. If you want a hotel wedding, but in a church, this is the hands down winner. There's also a vintage style gazebo nearby surrounded by tropical trees and flora that provide a more intimate feel. Still want that beach wedding? They can do that, too, usually by the famous lagoon here. As an extra perk, you might be able to get some fun wedding photos with the famous Hawaiian Village penguins, too!
Though it doesn't have as high a profile as the Royal Hawaiian, this property is probably a step up from even those heights. The Halekulani is not just a 5 Star hotel, it's one famous for the lengths the staff goes to fulfill their guests wishes. That certainly extends to their Wedding department. If they can't do it for you, it probably cannot be done. Period. The Halekulani's central areas are uniquely open-air, with covered walkways and plush lounge areas so you & your guests enjoy tropical breezes and the rustling of the palm trees. It's a setting that could only be in Hawaii. The location right on the beach defines picturesque, with both your ceremony and the reception taking place with the sand and surf as your background. If you're ready to go 1st Class, the Halekulani should get your first look.
This is another '1st Class' Property, but in a different way. Where the Halekulani is a Hawaii legacy, rooted in the elegance of the Islands, Trump is modern luxury all the way. It should be noted that it is not a beachfront property. However, it sits right across the street from it, with one side bordered by a large park, giving you vast open views, including the ocean. That is very rare in the high-rise forest of Waikiki. In addition, you have the use of a stately open-air terrace, columns and all, that sits on the 6th floor, above the noise, with the tops of palm trees peeking at you from outside. This is especially beautiful at sunset, with the darkening blue ocean and the unpredictable palette of colors painted across the skies behind you. If Grand is your wedding theme, you'll find it here.
Go with any of these 5 Waikiki hotels and you're on your way to the Hawaii wedding of a lifetime. From top service to prime locations and incredibly romantic settings,they've got it covered. Begin with them and you're off to a fantastic start, no question.
Written by:
Brandon Hughes
PUBLISHED: Jun 9th 2017