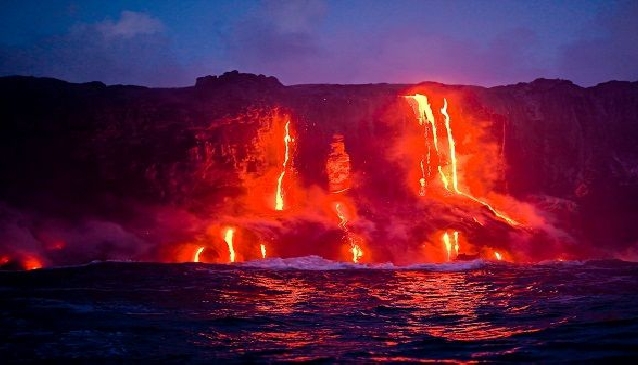 Volcanoes National Park
Inspiration
For prime viewing of the summit, we advise you drive the 11 mile Crater Rim Drive.
A geological patchwork of the earth's crusty core, Volcanoes National Park is truly a magnificent sight to behold. Home to two of the world's most active volcanoes, Kilauea and Mauna Loa, not to mention countless dark crevices and moon-shaped craters, this national park stands as a testament to over 70 million years of time.
Here to help you plan your trip to the hottest of Hawaii attractions (literally!), our local franchise has laid-down some glorious guidelines to consider before visiting. All that is left for you to do is to enjoy the endless volcanic landscape, perching at the peak of a dramatic panorama for that picture-perfect moment.
Where to Stay
Volcano Village is a great place to stay as there are plenty of bed and breakfasts and lodges here allowing easy access to the national park.
Hilo is another option and just a thirty-five minute drive to the national park, making it another perfect place to stop overnight.
Kailua-Kona has a wonderful choice of hotels but is slightly further out, approximately a three and a half hour drive from the park.
Before You Go
We advise you wear long trousers with sturdy boots or closed-toed shoes. Several hikes take you close to the edge of the lava formations and therefore it is important to keep your feet protected.
Walking around with the heat radiating of the volcanic surface can be hard work so bring plenty of bottled water to keep you going.
Make sure you fill up your car tank in Hilo or Volcano Village before you leave as there are no stations near the national park.
Volcano House (now closed until early 2012) is the only place to pick up some snacks close by so we advise you pack plenty of sustenance from Volcano Village to keep your energy up during the hikes.
On the Day
Begin your day at the visitor centre to discover the up-to-date information on the current weather, road and lava viewing conditions. Located just beyond the park's entrance and open from 7.45-5pm, this centre is the perfect place to plan your day.
Entrance fees cost $10 per vehicle, $5 for pedestrians and bicyclists. Entry tickets are valid for up to seven consecutive days.
Best Way to See the Summit & Luscious Lava
For prime viewing of the summit, we advise you drive the 11 mile Crater Rim Drive which takes you in a circle round the volcano's massive caldera. Taking between one and three hours (depending on often you stop for photo opportunities), along this drive you can see sulphur, steam vents, fissures, fractures and a walk-through lava tube. Definitely a drive worth making!
To see molten lava, head to the east rift zone reached via the Chain of Craters Road. If you continue all the way to the end of this road (about 19 miles), you will discover the heart of the national park's red-hot action. Be careful never to attempt any closed roads or unstable areas as this volcanic landscape is constantly changing and reforming new ground. It is important to be aware that there is no water, food or fuel available along the Chain of Craters Road. We also advise avoiding areas such as the Halemaumau Crater where volcanic smog levels are quite high.
So there you have it, a complete itinerary to ensure you are fully prepared for an exciting expedition to Hawaii's hottest attraction. Now all you have to do is charge your camera and dig-out that backpack burrowing at the back of your closet…
Written by:
Brandon Hughes
PUBLISHED: Jun 9th 2017