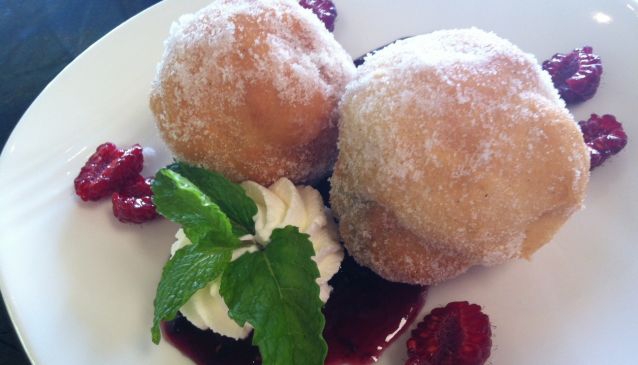 Malasada Whata?
Editorial
Nationalities shared more than communal spaces and gardens. They shared their food.
Hawaii is an amalgam of cuisines and flavors. Frequently referred to as a cultural "melting pot," I prefer to think of it as the cooking pot. In the middle of the 1800's contract workers began to come to work the sugar and later the pineapple fields from China, Portugal, Japan, Korea, Puerto Rico and the Philippines.
Living in company towns called "camps" the nationalities shared more than communal spaces and gardens. They shared their food. Mary would trade a loaf of her bread or malasadas to Shimizu for her tsukemono pickles or udon noodle. Kim Cho traded taegu and Bi Bim Bap with Conception for Pancit noodle and kalamungi. They traded vegetables grown from seeds from their mother country with the others, and the Hawaiians, and used what they got in return to put food on the table. Flavors, textures and ingredients mingled. In short, a cuisine was born.
Plantations are long gone but the rich legacy of this cultural fusion cuisine continues in island kitchens. One of the all-time faves everybody eats in Hawaii is the Azorean/Portuguese malasada.
Malasadas are traditionally prepared and eaten on Shrove Tuesday, the day before the Catholic Ash Wednesday. In "the old days" as my Portuguese dad says, "to prepare for Lent you had to use up all your sugar and yeast and give up sweets. So for the 'last hurrah' you made malasadas."
Originally each Portuguese family made these at home, but today you can have them anytime. Leonard's bakery in Kapahulu, Oahu, is one of the first to offer these commercially, but there are many other places in the islands to enjoy these round, puffy, lighter- than- air, sugar-coated delights. Purists argue that the non-traditional offerings filled with passion fruit, chocolate, and haupia cream are not a true malasada.
But variations abound. The peasant-inspired malasada has risen to haute cuisine, appearing on the desert menu of five-star Marvos for over fourteen years. In Wailea, Maui you can enjoy them for dessert at
The Fairmont Kea Lani Maui
at KO or have some made to order at brunch at the
Waldorf Astoria Grand Wailea
.
There really is only one rule: you have to eat them fresh and hot. If you want to do something "out of the (malasada) box" right out of the fryer, Agnes Bakery in Kailua Oahu will come to your house or party and cook them for you until you all keel over. Yes, you can have your very own "Malasada Man."
Listed below are various places to get the best malasadas in the islands according to the many islanders we asked.
Oahu
Founded over 60 years ago and still owned and operated by the Rego family in Kapahulu, Leonards is the gold standard. Order and wait for the next batch.
Non DeMello the "Malasada Man" owns Agnes bakery in Kailua town and he makes delicious malasadas with from-scratch texture and taste. Try some at the bakery or call him if you want someone to come over to cook malasadas for you at your Oahu vacation house for a rockin' brunch party!
On Beretania Street in Honolulu and popular, I have not tried them but most say these are great.
Malasadas as fine dining dessert? Yes, despite Chef Mavro's objections but due to guest demand, they have remained on the menu over the years. In July 2012, Pastry Chef Lynette Pflueger reinvented the lilikoi- filled malasadas and added lilikoi crème chiboust (pastry cream lightened with meringue) topped with lilikoi seeds, and served with Hawaiian vanilla lilikoi ice cream.
Below are popular places for malasadas on the neighbor islands. Please let us know of any faves we missed:
Maui
One of Maui's favorites. I have to mention manju here too-with flaky crust, the coconut one is to die for.
Komoda Store and Bakery:
Old-fashioned place in Makawao, up-country Maui and at throw-back to simple times.
A great place to taste the entire breadth of this Maui plantation cuisine fusion called "Plantation Inspired Cuisine," is KO. After your meal Executive Chef Tylun Pang then tempts you to find some room to eat his malasada dessert "Pao Doce Frito." Served warm with cold coconut gelato inside, and adding black raspberry jam made from berries grown on the slope of Haleakala.
You can have original-style malasadas every morning at the Sunrise Breakfast Buffet or try Executive Chef Eric Faivre's glorious Champagne Brunch every Sunday in the Grand Dining Room where they make them just for you including cream fillings like taro or guava. http://www.grandwailea.com/
Kauai
Kauai Malasadas:
Those who love the place – really love it. I have not personally tried these.
Kauai Bakery:
In Lihue, sometimes hit-or-miss. But when "hit" they are good.
Hawaii, the Big Island
More of a filling-type malasada that leans toward a filled donut. Fillings are tasty, though some purists don't agree it is a true malasada.
Written by:
Brandon Hughes
PUBLISHED: Jun 9th 2017