Meals on Wheels
Food & Drink
Bon appetite or rather, should I say E 'ai kakou, (let's eat in Hawaiian)!
Street food is a well-established international phenomenon. Bustling street stalls, road-side hawkers and local farmers markets have become the norm we come to expect when embarking upon our worldly travels. However, today we have approached a new era; the era of the 'food truck'. Bringing a whole new meaning to the phrase 'meals on wheels', this innovative concept of grabbing delicious, affordable and restaurant-quality food, all on-the-go, has become a worldwide wonder.
Nowhere is this more true than in the Hawaii restaurants scene where the food truck has been taken by a storm of potent popularity. Cruising by in brightly coloured and cheerful trucks, these vehicles are famed for their international cuisine. Serving affordable and tasty food from around the globe, it is common for these trucks to serve cuisines from all the different continents. And, by logging onto their Twitter accounts customers can keep a track of the weekly movements and daily specials of their local trucks.
Despite this actually not being a new concept, (the food truck dates back to the mid-1800s), the idea of fresh, and restaurant-quality cuisine, on-the-go, is a relatively new notion. Previously ice-cream vans and 'grease trucks' dominated the mobile market; particularly in America where the demand for fast-food has always been high. Deciding to harness the potential power of meals on wheels, Hawaii food trucks began to serve up local lunch platters in the 1990s. However, it wasn't until recent years that the food truck sensation truly skyrocketed in Hawaii. And, in the face of crumbling economies the clever and cost-effective mobile unit seemed the way forward for hopeful restaurateurs.
Today with hordes of hungry followers, Honolulu's food trucks can afford to fund a travelling service of gourmet-quality, authentic food at practical prices. Here are just two of our particular favourite trucks offering a mouth-watering selection of meals in the Honolulu area…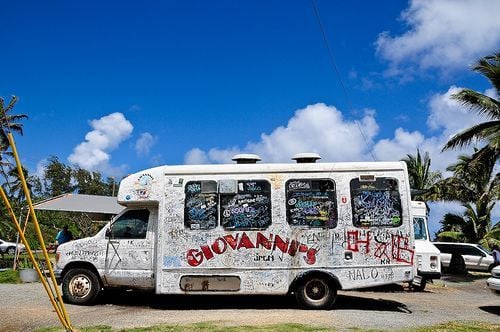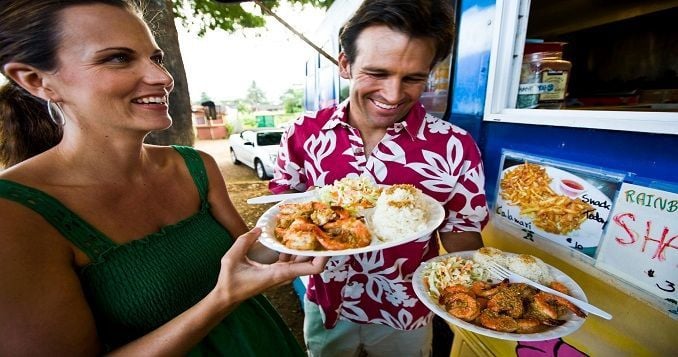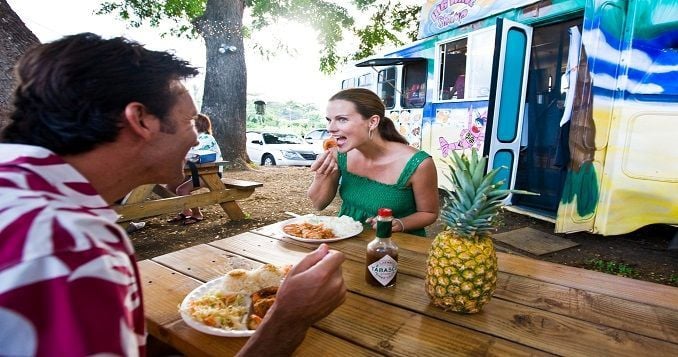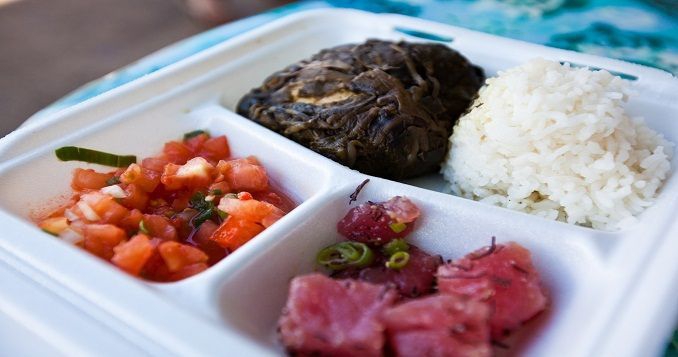 Ono To Go:  This graffiti covered truck has to be one of the liveliest mobile diners in the district. Serving grilled delicacies, lunch platters and seasonal salads, Ono To Go's varied menu keeps the customers coming back for more. Particularly popular dishes amongst frenetic foodies and local critics include the tender teriyaki steaks and the Teri Citrus Salmon. The former is grilled to perfection over a wood-fire flame while the latter is seasoned with an aromatic mix of Japanese spices. If you are feeling especially ravenous, there is also the sampler platter which includes a mixed selection of grilled steak, chicken and short ribs. Mobile meals can cost less than $10 but be sure to stop-by before the busy lunch period to avoid long lines.
Jawaiian Irie Lunch Wagon: Owned by Jamaican born chef and Miami restaurateur Chef Cassie, this popular roaming restaurant offers a spicy fusion of explosive flavours. Bringing the exotic and care-free Caribbean diet to the Hawaiian isles, typical dishes doled-out from this wagon include jerk chicken and pork plates, all served with various sides of tasty vegetable stews, beans and rice.  And, beautifully decorated with an accompanying orchid, these luscious lunch platters overflow with an authentic Caribbean feel, not to mention taste. If you are feeling further frivolous, stretch your wallet for some of the chef's delicious bread pudding as served with a rich rum sauce this treat is definitely worth a taste. Again with this local lunch truck it is advised to get there early and avoid big queues, (as well as getting the best piece of bread pudding, of course!)
Reaching further afield to Oahu's Northern shores, this marvelous meals on wheels prospect is spreading across the Hawaiian isles. For those in the northern area, our local experts recommend two food trucks in particular- the Big Wave Shrimp truck and Opal's, a vibrant vehicle serving hand-crafted and authentic Thai food.
So now all that is left for you to do is to tuck-in, guilt-free, to this glorious on-the-go food.
Bon appetite or rather, should I say E 'ai kakou, (let's eat in Hawaiian)!